OUR PROMISE
Outstanding and effective services that produce measurable, meaningful results.
Cutting-Edge Communications
Innovators and entrepreneurs expect their communications to cut through the clutter.
So, at Russo Partners, we work with video storytelling, podcasts, traditional media, social media and an ever-expanding range of tools, to reach your audience. From executive interviews to major announcements, we have the expertise to deliver.
Corporate Communications
We create your corporate story, then deliver it to the world. We take your corporate story personally.
So, together we gather the facts, determine the messaging and zero in on the audiences you need to reach. We also ensure that your story's key messages are consistently shared across all of your communications, including your website, social media, corporate presentations and news releases.
Media Relations
Our focus with media is orchestrating the right media strategy with the right message, aimed at the right outlets at the right time.
When we say we have contacts with the media, we're talking about influential journalists with publications at The Wall Street Journal, The New York Times and other major newspapers; industry publications that carry clout; broadcast news outlets with impressive audiences; and online publications that generate buzz. Our media relations counselors are scientists and former journalists. With our reputation for excellence, reporters, editors and producers turn to us regularly as reliable sources. Not only do we help you build the story, but we help you build strong working relationships with the media to ensure your story is told effectively now and in the future.
News Bureau Activities:
Background interviews
News releases
Story pitches
Media advisories
Embargoed outreach
Bylined articles
MAP – Messaging and Positioning
MAP is our proprietary audit-based method for building a unified, consistent message platform.
To arrive at this goal, Russo Partners will embark on a series of internal and external audits that will allow us to gather the necessary information to determine which issues are most important and what language resonates most clearly with target audiences.
The results of the MAP workshop are applied across all communications tools, including the company website and corporate presentation, to maintain consistency and control.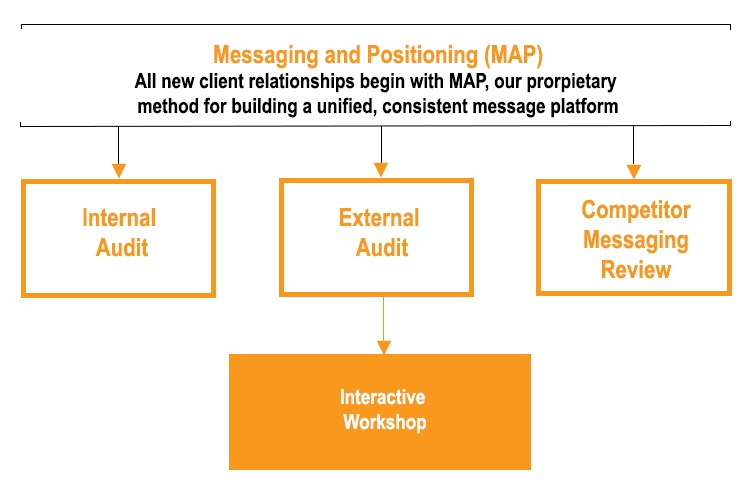 Regulatory Communications
We provide comprehensive services throughout the lifecycle of your product.
From a new drug filing to approval and beyond, we offer counsel and communications support for all regulatory activities. Our team can help you navigate the complexities of regulatory communications, in both the US and Europe, including effective preparation for Advisory Committee meetings and oral explanations.
Social & Digital Media
Let us show you the ever-growing ways we leverage social media to increase corporate and executive visibility, support your sales team, engage clinicians, investors, customers, patients and key opinion leaders.
First, we do a comprehensive assessment of your social media platforms and determine your needs.  From there, we develop compelling content to generate engagement, using calendars in monthly, biweekly or weekly formats to schedule postings on multiple channels, including Twitter, Facebook, YouTube and LinkedIn. We can post in real time from multiple locations, including onsite updates from trade shows and medical conferences. We demonstrate social media effectiveness using both quantitative and qualitative analyses to show how well you are engaging. Which opinion leaders follow you, and how often? We'll report regularly on your progress.
Investor Relations
INTEGRATED THINKING TO OPTIMIZE YOUR VISIBILITY WITH THE INVESTOR COMMUNITY.
With three-plus decades of Wall Street experience, we're experts at transforming your science and strategy into the best language for reaching portfolio managers, sell-side analysts, venture capitalists, and investment bankers. Our experience allows us to…
Frame the conversations that drive investor expectations
Broaden your shareholder base and improve research coverage
Develop and communicate your catalyst calendar and value drivers
Establish your comp group, and how you're tracking and behaving within it
Examine how investors view your company, and address any perception gap
Deliver real-time market intelligence
Manage the financial results process
Develop your materials – News releases, scripts, SEC filings, corporate decks, fact sheets, and more
Target the correct timing and content for investor days
Provide capital raising guidance along your entire corporate life cycle
Leverage your M&A and business development activities
Russo Partners' integrated approach to financial communications, leveraging our skills across investor and media relations activities, is the most effective and efficient strategy for boosting your presence.
Video Production
No one understands the power of video better than we do.
Our team, led by a former Senior ABC News network producer, combines journalism and social media expertise to produce compelling video content for distribution across digital, social and broadcast platforms.
Metrics & Analysis
Do you communicate successfully? Do audiences heed your calls to action?
We answer those questions in ways that are meaningful to you. Every organization measures success differently. At Russo Partners, we tailor metrics and analysis to your needs. That means reporting much more than just the number of people viewing your posts. Are opinion leaders reacting favorably to your messages? How have impressions of your organization changed since you updated your messaging? These are just some of the many ways we measure success.
Professional and Advocacy Relations
Key opinion leaders and patient advocacy groups are valuable allies whose support can influence your key audiences.
We work with you to identify and engage the thought-leader advocates best-suited to generate support for your organization. And we use digital, social and video channels to keep your advocates active and engaged.
Issues and Crisis Management
In our social media-driven world, a crisis can break in seconds.
A single tweet can go viral, spiking anger over issues such as the high cost of drug treatment and the challenge of protecting personal data. At Russo Partners, we prepare you to rapidly enact a crisis plan and use multiple communications channels as needed. Our team provides counsel to board members and senior executives to develop and implement communications that address the needs of all of your target audiences while maintaining your credibility.
Issue and Crisis Management Activities:
Strategic counsel
Message development
Communications collateral preparation
Media relations
Social media
Investor relations
Clinical Trial Recruitment Support
We generate awareness of clinical studies through the personal stories of patients and caregivers, to support recruitment both nationally and regionally, through award-winning ideas and creative outreach.
We work with senior clinical executives and local investigators to identify effective strategies, such as the use of patient spokespeople and professional athletes from our Sports-Health Alliance to raise awareness.
Sports-Health Alliance
We develop award-winning PR programs that are at the intersection of health, medicine and sports. We call on our armada of athletes, broadcasters and sports business leaders with whom we have close relationships and share the passions of our clients.
Russo Partners is taking leadership in athlete healthcare advocacy. We affiliate with athletes who have a passion for a healthy living and who identify with a disease, injury or illness. We work on both a national and grassroots level with a focus on improved patient health. Our professionals are known quantities as powerful influencers of healthy behavior. As professional athletes, they received the highest quality of care and were exposed the newest medicines, treatments and regimens for restoration of their health. These celebrity athletes talk from the heart, are powerful storytellers and are role models.
Russo Partners team leader Solomon Wilcots brings a vast network of current and former athletes who are willing to speak at town hall meetings and medical centers, or give interviews to local or national media. Their passion is evident and transformative which is why they are willing and eager to educate their audience, many of whom are former fans. Since the inception of the Sports-Health Alliance at Super Bowl 50 in 2015, our cast of sports figures leading the charge has grown, as new athletes learn of our program and ask to be involved.
The embedded camaraderie of the sports world is a strong bond, and one that Russo Partners leverages.